Strengths and characteristics of our business
Our core business is real estate revitalization We work to maximize our customers' asset value through the utilization of existing properties and its distribution.
From generation to generation, building owners, asset holders and wealthy people continuously inherit , purchase, manage and rearrange real estate to manage assets. We have been developing the business to contribute for all these steps. We are making improvement in specialty by constructing each main service as independent business.
Steps of customers' building management and construction of our business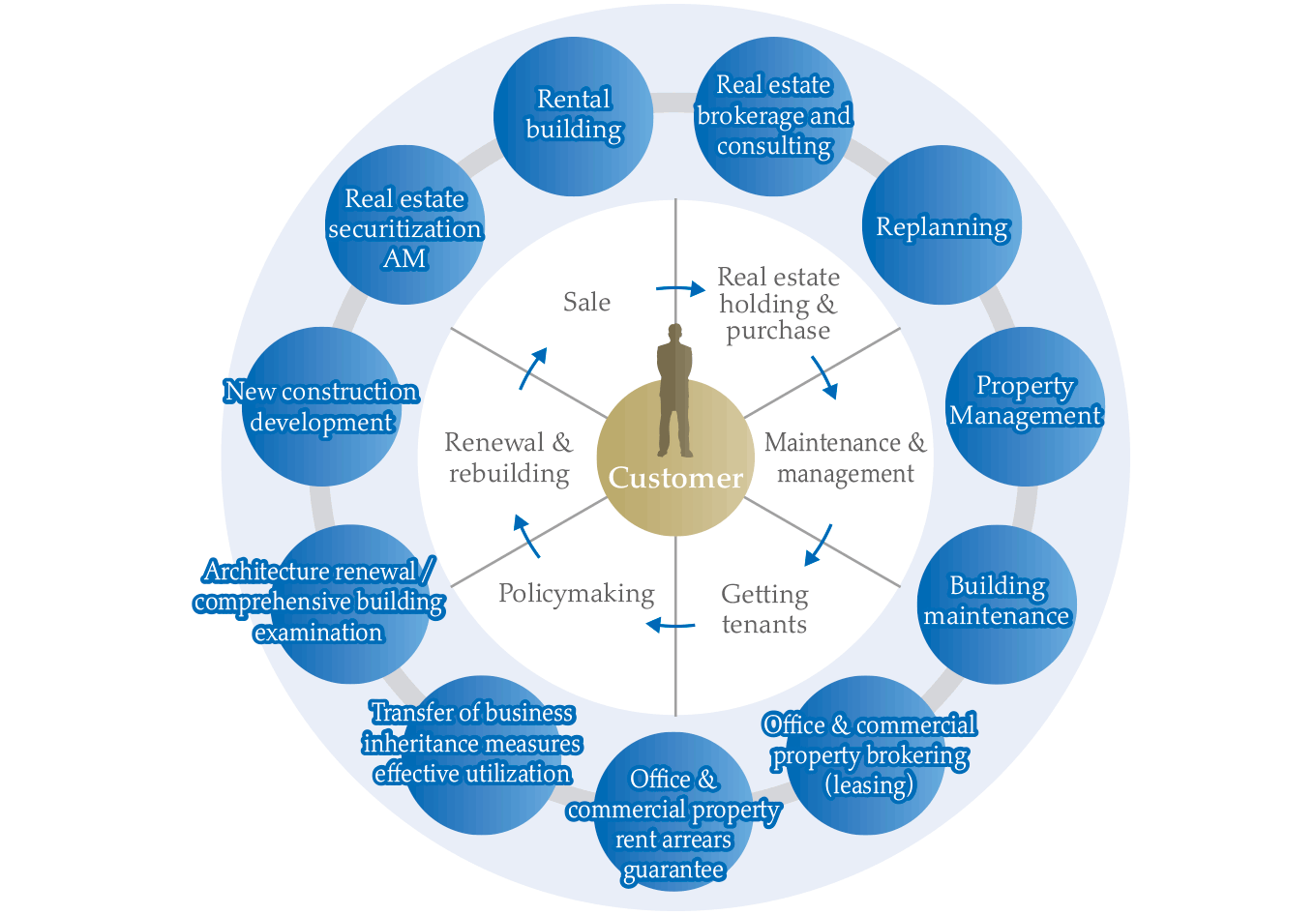 Furthermore, we got good human resources in each sections. By collective intelligence of these internal sections, we are creating much more added value.
Our strength lies in our instinctive understanding of central Tokyo, the most populated metropolis in the world.
For example, utilize rental brokerage's instinctive understanding of local market and make renewal plan from tenant's viewpoint. Do building management by utilizing the knowledge and experience of real estate sales brokerage and sell buildings to customers. With internal collaboration of different sections, we create high added values that are linked to one another. Since our establishment, we take it is very important to share value with all employees and have kept on cultivating and enhancing our value up to now.  This organizational climate of a unified sense of value is what supports our inter-departmental cooperation and interaction.
We closely communicate with every customers and solve issues through the cooperation of our internal sections.
Close communication with every customers make us change and grow. As real estate professionals of real estate utilization, our goal is to be the company that customers love and choose the most in the world.
No matter how small the matter is please do not hesitate to consult us. We will be your one-stop solution to all kinds of problems
Large changes are occurring in the environment surrounding real estate business. Building owners are facing problems much more difficult and complicated.
With a panorama view of the building management and asset formation at the present and in the future, we are making efforts to solve all kinds of problems that the customer are facing. The problems could be tiny, time costing and bothersome things, or even the management and utilization of entire assets.
We provide one stop service to boost tenants' satisfaction by solving customers' problems through internal sections' cooperation.
Instead of one time transaction, we want to be the partners that customers need and love for life time and over generations. The smile of satisfaction from a customer is our accomplishment.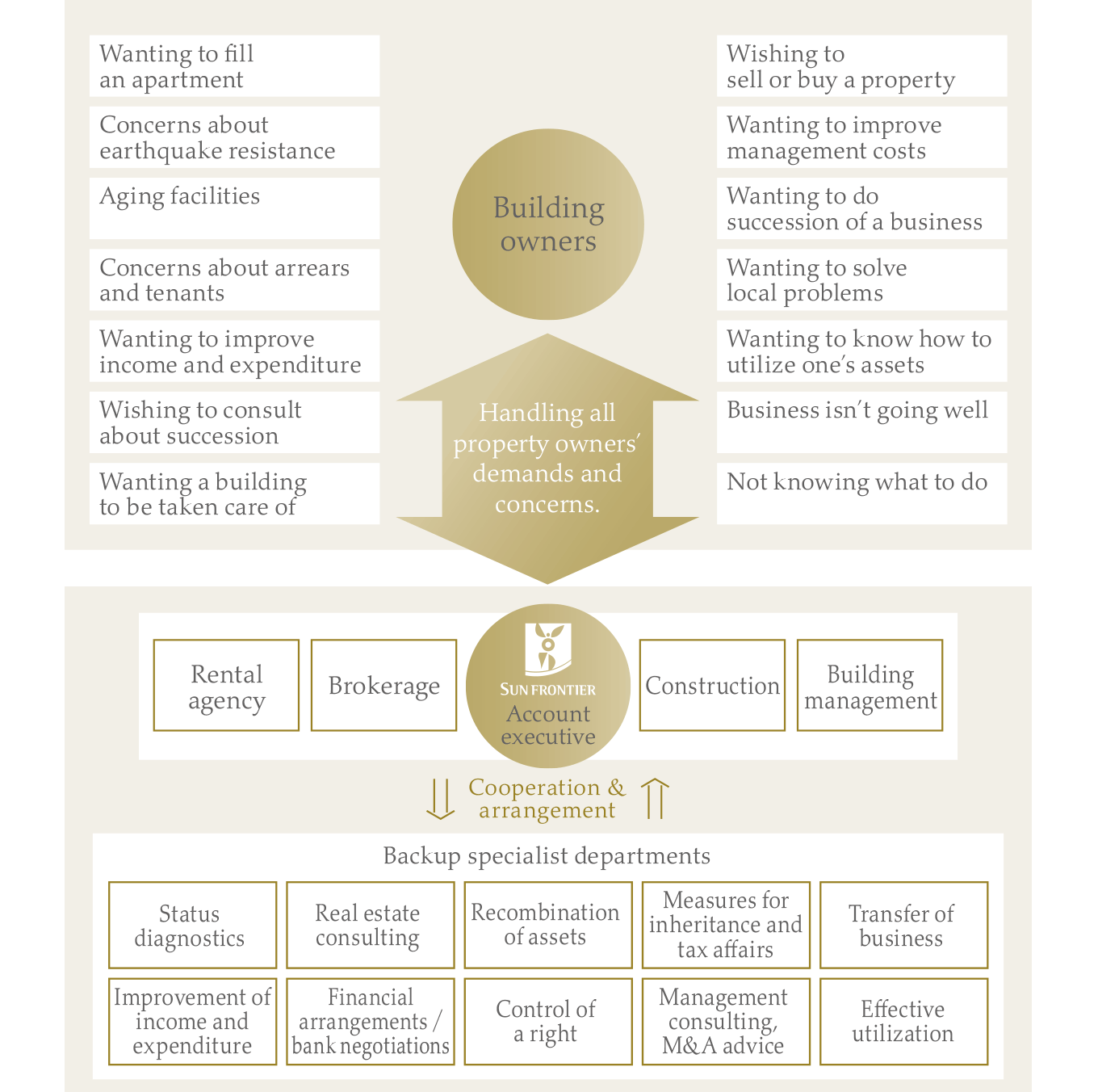 Our strength lies in rental brokerage based on our instinctive understanding of medium-sized buildings in central Tokyo.
Specialization in office building of central Tokyo
It is said that 70% of Japan's office buildings are in Tokyo, and 70% of them are concentrated in the five wards of central Tokyo. With the highest number of people for any urban area in the world, Tokyo has a developed infrastructure with a plenitude of commercial establishments. Most of all, with the city's beauty and cleanliness, business blends in seamlessly with history and nature; it's a wonderful environment for working people. The stage for our growing business is Tokyo's property market, especially the investment market for office buildings, and our customers include wealthy people not only in Japan but also from developing countries in Asia.
Our base of operations is concentrated in the center of Tokyo with around sixty community-based tenant leasing agents. This gives us the instinctive understanding to communicate closely with customers and work speedily and honestly to serve customers. We provide relevant fresh information about not only the rent market price and room availability but also the state of new and developing properties, prevalent industries and occupations in local area and so on. By introducing many repeat customers of us, we aim to maximize the value of owners' properties.
* The five wards are Chiyoda-ku, Chuo-ku, Minato-ku, Shinjuku-ku and Shibuya-ku.