Corporate Motto & Management Rationale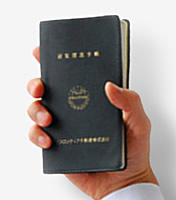 "Philosophy Pocketbook"
Our common determination criteria
Bible of Management
Corporate Motto
" Altruism "
Management Rational
Protect all employees, pursue the material and intellectual happiness, with the heart of coexistence we contribute to the prosperity of society and humankind.
Corporate Philosophy
We improve our knowledge, skills and personality passionately through work. By focusing on the utilization and distribution of real estate properties, we reduce the waste of non-renewable resource on earth and contribute to the prosperity of the people, plants and animals.
Credo
It is our duty to meet the genuine needs of every customer.
As professional of real estate revitalization, we will provide the most high level personal service to customers for the happiness of their family for their perspective.
By eliminating customers' anxiety and complaints, we produce results exceeding expectations and make them feel at ease and happy.
Three Policies
Altruism rather than egoism
Live up to right things as human being
Absolutely positive
Management philosophy
1. Altruism

Live life passionately with a considerate heart and integrity.
Contribute to the happiness of others with the willing for peaceful coexistence.
By curbing the egoism, we foster the altruism.

2. Work = Service to Society

Work is the thing through which you can mostly contribute to people.
Refine yourself through work and become useful to society.
By doing this, you can contribute to humankind and society through society.

3. The Result of Life or Work = Attitude × Effort × Ability

One can only be a qualified social person in the business circles when he/she has a profound thought like philosopher, is upright and noble like Samurai of Genroku Era, has talents of petty official, and has the healthy body of dirt-poor farmer.

4. Strive Harder than Anyone Else

There is no fast track to success.
Work steadily step by step through untiring efforts.

5. Have an ardent desire in heart

"As a man sows, so will he reap."
Maintain an ardent and sustained desire that permeates your subconscious mind, and achieve the goal you set by yourself.

6. Do the right thing as human being.

Be sincere. Be honest. Be fair.
The first criteria of determination is "to do right thing as human being".
Follow truths and principles and accomplish the justifiable and legitimate work with courage.

7. Absolutely positive.

Both good and bad moments are trials of life. Think positively at any time.
Believe the limitless possibilities.
To create something out of nothing is the true charm of life.

8. Always Be Creative in Your Work.

Better today than yesterday and better tomorrow than today.
Continuous thinking about enhancements and improvements to your assigned job is the source of growth.

9. Keep humble and don't be puffed up with pride.

Have a contented mind.
Be grateful for being able to live in this world.
It is thanks to the assistance of many people that we are able to work freely now.
The big enemy to life is arrogance.

10. Have a mild, cheerful and beautiful heart

Mild heart having the humility to recognize one's weaknesses and mistakes and tend to grow in good direction, is the basic mind of a growing people. Cherish your vision and dream and create a happy life.
Vision
As professionals of real estate utilization, our goal is to be the company that customers love and choose the most in the world.
Business Policies
Our core business is real estate revitalization.
Our customers are building owners, asset holders, and wealthy individuals.
We focus on people rather than property, solve any real estate related difficulties based on the viewpoint of customers.
By utilizing the overwhelming sense of local real estate market, with the strength of rental brokerage based on community sales, we provide a one-stop service to customers on "Building Management" and "Real Estate Revitalization".